Pasta salad with candied eel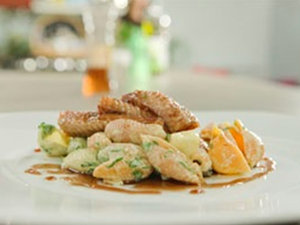 Level of difficulty:
Easy
Preparation time:
00:20
Spanelli pasta salad with Geitonas candied eel & Vaimakis Isis elixir by chef Nikos Venetis. Ingredients for 4 persons.
Preparation:
Boil pasta in plenty of salted water, following the cooking instructions on the package, until it becomes soft. Strain and leave to cool.
Prepare the mustard sauce. Add some lemon juice, mustard, egg yolk, salt and pepper in a blender and blend on high speed, adding the oil little by little until it starts to thicken like mayonnaise. Add water for softer texture and continue blending for a few more seconds. Pour the mustard sauce in a large bowl and pour over it the cold pasta. Stir so that the sauce covers all the pasta.
Add some finely chopped parsley and continue stirring. 
Chop the half ell and add in the salad while stirring so that it gets mixed with the ingredients. Cut the remaining eel in strips.
In a small pan heat the elixir until it starts to candy and then add the eel. Make sure it gets covered with the elixir. Add some honey in the pan and gently stir until it dissolves and integrates.
Serve pasta in a large plate, top with pieces of the candied eel, drizzle with 1-2 tablespoons of good quality vinegar and 2-3 tablespoons of the elixir and honey mixture remaining in the pan.
Ingredients for the recipe:
200 gr. smoked eel Geitonas
150 gr. cochilia tricolore Spanelli
½ bunch of parsley
100 ml elixir Isis Vaimaki
2 t.s. vinegar Oxos Vaimaki
1 t.s. honey
1 egg yolk
100 gr. mustard
100 ml olive oil Konakis
80 ml water
1 t.s. lemon juice
Salt
Peper